This is a Daily Alpha Update. Developers release them every day, and this is the one for 09/02/2014 or 02/09/2014 depending on the location.
Everyone. I don't have much to talk about - our daily update could of been off, but good thing it didn't. Jolly Roger is up to his jolly tricks once again.
I am not really sure what Jolly is up to this time, but I have a feeling it's a bit of a curse. Not only that, the sky is suddenly turning dark and gray, much like it's Halloween, but didn't Halloween already passed 5 months ago. Let's not panic.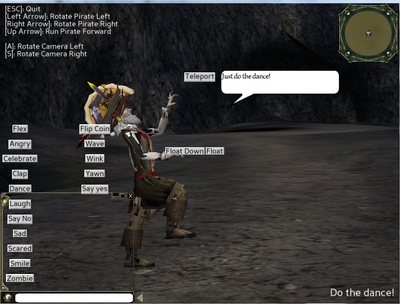 The sky has officially become dark and gray, perhaps the sky has been cursed. However, a lot of pirates said this curse is that kind of dance move - something no pirate has had in a very long time, not even before POTCO closed.
Other pirates are telling me, this is nothing to be scared of, or worry about, it's only the "Zombie Dance" performation and that dance is what Jolly Roger makes pirates do. Simply true, but I think me and the rest of the team know better - I mean, it's not Halloween. I'm just going to leave this update here and get this madness out of my mind for the rest of the day. 
Downloads: The curse has wiped out the download links away. Sorry, but we can't download this update during a curse, especially from Jolly Roger!
Fixes:
None detected
Newly Added:
Ad blocker interference detected!
Wikia is a free-to-use site that makes money from advertising. We have a modified experience for viewers using ad blockers

Wikia is not accessible if you've made further modifications. Remove the custom ad blocker rule(s) and the page will load as expected.