This a Daily Alpha Update. Developers release them every day, and this is the one for 12/26/2013.
Happy Holidays and Merry Christmas, mates! It's that time of year again! But this time, it's even better because it's nice to be releasing updates and developing Pirates Online Rewritten on this special time of year!
The updates we been releasing are good for the start of development. As we release these development updates, they should be put into the game. This Christmas update may or not blow you out of the waters but at least, we're releasing something. That something is a Happy Holidays from us! We hope you had a good Christmas and getting amazing gifts :) 
With the gifts you got for Christmas, mark this as a Christmas treat for you too (if you want)! Like they always say, it's Christmas and Christmas is the time to be kind and giving presents, and you should be thankful that we're trying to bring back POTCO :) Our goal is to bring back our favorite game we have known for and loved. 
To end this, with another Happy Holidays from: Pirates Online Rewritten!
---
Now it's time we unwrap this gift (known as the update) we have gathered for you, mates! If you need to close your eyes for 10 seconds before taking a peek at this gift, please do so.
The gift: Ile d'Etable de Porc!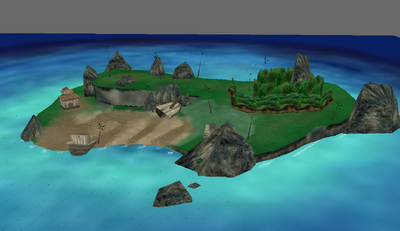 Yep, an island called Ile d'Etable de Porc is our gift! Pierre le Porc will sure be taking a nap again in Pirates Online Rewritten. Or we could wake him up - who knows? Well, he only wakes up when the quest is needed. The Spanish and French are returning for war as well. That calls for SVS! SVS is a fun activity to do but boy, a lot of damage on ships and pirates getting injured, which is not good for a savvy pirate. You know though, pirates usually get hurt a lot, but when it comes to being savvy, you probably won't.
Let's be trustworthy enough to know how savvy we are :)
Ad blocker interference detected!
Wikia is a free-to-use site that makes money from advertising. We have a modified experience for viewers using ad blockers

Wikia is not accessible if you've made further modifications. Remove the custom ad blocker rule(s) and the page will load as expected.