It's July 1, so I went to the Peddlers to check on the new outfit (which it should be China Seas Warrior) but something weird happened. No July's Peddler? Pirates Online may be releasing July's Peddler late or am I in a glitch. There is no officIal Grog Blog on the website either.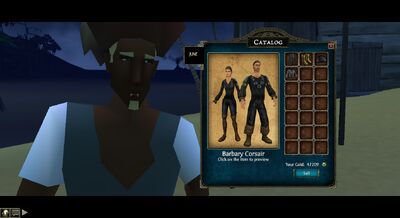 The recent Snapdragon outfit is released for the month of July. Since the latest China Seas Warrior outfit did not replace Snapdragon, it will arrive in the future.
Ad blocker interference detected!
Wikia is a free-to-use site that makes money from advertising. We have a modified experience for viewers using ad blockers

Wikia is not accessible if you've made further modifications. Remove the custom ad blocker rule(s) and the page will load as expected.