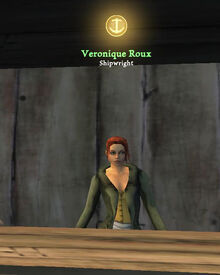 Veronique Roux is the Shipwright on the French privateer island of Ile D'Etable De Porc and is one of only two female shipwrights in the Caribbean, the other is Rose Seafellow on Port Royal by the EITC docking bay. Roux means red in French; this might be because of her red hair. She seems to be French just like Pierre Le Porc.
Ad blocker interference detected!
Wikia is a free-to-use site that makes money from advertising. We have a modified experience for viewers using ad blockers

Wikia is not accessible if you've made further modifications. Remove the custom ad blocker rule(s) and the page will load as expected.