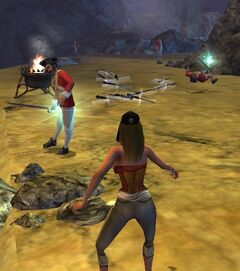 Viper's Nest
is a
Dagger
skill
that allows the
pirate
to throw an entire brace of special
Throwing Knives
at once. They can strike multiple
enemies
at the same time, and deal quite significant damage to each target.
Once the pirate has this ability, they can purchase additional braces at any blacksmith. Increasing this ability increases the amount of damage.
Rank
Damage
1
210 to 420
2
263 to 525
3
315 to 620
4
368 to 735
5
420 to 840
Only with Viper's Nest Boost
6
473 to 945
7
499 to 997
8
525 to 1050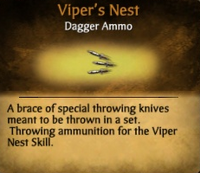 To use Viper's Nest, have your dagger drawn and press 5 or click
. It will take some time for this skill to reset.
Game Note
Ad blocker interference detected!
Wikia is a free-to-use site that makes money from advertising. We have a modified experience for viewers using ad blockers

Wikia is not accessible if you've made further modifications. Remove the custom ad blocker rule(s) and the page will load as expected.