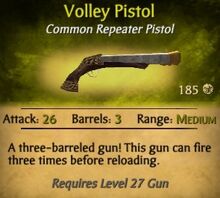 The Volley Pistol is a common, but potent firearm. This repeater pistol is very similar to the Grand Pistol and has no special abilities, but it does have three barrels. This can also be bought at the Gun Shops on Padres Del Fuego.
Attack Power: 26
Abilities: None
Range: Medium
Cost: 3,700 Gold
Resale Value: 185 Gold
Ad blocker interference detected!
Wikia is a free-to-use site that makes money from advertising. We have a modified experience for viewers using ad blockers

Wikia is not accessible if you've made further modifications. Remove the custom ad blocker rule(s) and the page will load as expected.