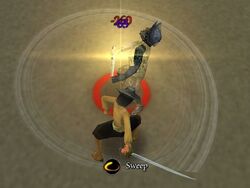 Voodoo Damage is a very special ability that allows a pirate to deplete a foe's voodoo energies, making it valuable when dealing with dangerous voodoo-using enemies. It is very similar to Hex-Eater Shot because on every attack it drains voodoo from the enemy.
Voodoo damage is always in purple, shown over the damage done to the enemy.
Weapons With This Skill
These weapons are known to have the Voodoo Damage ability:
Cutlasses
Broadswords
Sabres
Ad blocker interference detected!
Wikia is a free-to-use site that makes money from advertising. We have a modified experience for viewers using ad blockers

Wikia is not accessible if you've made further modifications. Remove the custom ad blocker rule(s) and the page will load as expected.