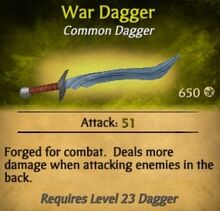 The War Dagger is a common, but extremely lethal weapon. This dagger does not grant any special abilities, but requires a skilled user. Pirates can buy this dagger from any of the blacksmiths on Padres Del Fuego. It is the most powerful (and expensive) common dagger you can buy.
Ad blocker interference detected!
Wikia is a free-to-use site that makes money from advertising. We have a modified experience for viewers using ad blockers

Wikia is not accessible if you've made further modifications. Remove the custom ad blocker rule(s) and the page will load as expected.