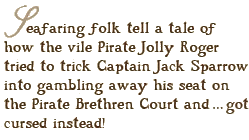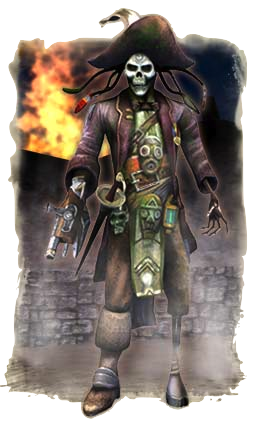 Jolly Roger was a merciless soul, but the Pirate Brethren Court found a good use for him. Jolly was their henchman, performing unsavory deeds when the Court did not want to soil their hands or reputations. For his service, Jolly knew that one day, he'd be voted onto the prestigious Court - something he wanted more than life itself. Jolly and Jack Sparrow been friends, long ago, and he was always envious of Jack's uncanny luck. As Jack's reputation grew, so did Jolly's resentment. So when Captain Teague left the Court and gave his seat to his son, Jack Sparrow, Jolly vowed revenge.
Knowing Jack was a card lover, Jolly invited him to a friendly game of poker. Jolly had to cheat to win so he conspired with a villainous Witch Doctor to deal the cards. Jolly won hand after hand. Soon Jack was out of luck and money. As Jolly hoped, Jack bet his seat on the Brethren Court for one, last hand. The Witch Doctor dealt Jolly a full house - Sixes over Fours. Jack knew he was being cheated so he plucked an Ace from his sleeve and presented a Full House too - Aces over Jacks.
Jolly flew into a rage! He pulled twin pistols and aimed them at Jack and the Witch Doctor thinking he'd been double-crossed! Jack threw the table up, tossing cards and gold everywhere. Jolly shot the Witch Doctor but Jack disappeared in the confusion. With his dying breath, the Witch Doctor cursed Jolly Roger to walk the earth as the undead, transforming him into a skeletal beast! Jolly's face now had gaping sockets for eyes, a pistol sprouting from his arm and a gnarled, fleshless hoof for a leg. Jolly Roger lost his humanity but inherited the all-powerful Voodoo forces of the Witch Doctor that gave him the ability to devour souls and raise them from the dead with his supernatural breath. Jolly now leads an army of undead skeletons that blindly follow him wherever he commands. What's worse, Jolly's vile power grew so strong that it even brought a horde of cursed alligators, bats, wasps, crabs, scorpions, and deadly stalking tree stumps under his evil control!
Pirates who treasure their lives and souls should steer clear of Jolly, for he will crush anyone in his path to exact revenge on Jack Sparrow and the Brethren Court, and become absolute ruler of the Caribbean!
Ad blocker interference detected!
Wikia is a free-to-use site that makes money from advertising. We have a modified experience for viewers using ad blockers

Wikia is not accessible if you've made further modifications. Remove the custom ad blocker rule(s) and the page will load as expected.