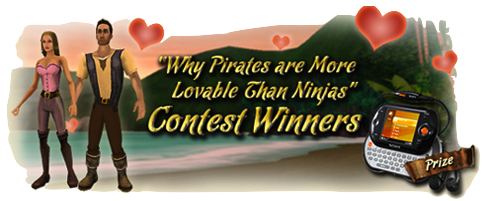 Thank you to everyone who participated in the contest. Check out the top 10 reasons "Why Pirates are More Lovable Than Ninjas" below:
Ninjas are supposed to be silent, not endlessly witty and charming, savvy? Calico Anne, Columbia, SC
Ninjas go where they're told, but a Pirate follows nothing but his heart. Kiel Morgan, Jacksonville, NC
Being friends with a Pirate means you'll always head home with a little extra cash. Cutty Flam, Cuba, NY
Pirates may not be the best friends you have, but at least they're honest about being dishonest. Isaiah Fireskull, West Springfield, PA
Pirates come in all different shapes and sizes, so there is a Pirate out there for everyone! Fish Bait, Brooklyn, NY
Singing romantic sea shanties is part and parcel of being a Pirate. Ever see a ninja sing? I don't think so. Kres Farsailer, Georgetown, TX
What's more lovable than the stench of a Pirate who hasn't bathed in a month?!? Lord Kearn, Kingsburg, CA
Ninjas always have to be in their black tights crawling around and stalking people. That's just creepy! Mary, Bethlehem, PA
Pirates wear clothes when they go out, while ninjas wear pajamas. Who wants to go on a date with someone wearing pajamas? Buffles De La Puffles, Oceanside, CA
Ninjas rudely sneak up on people. Who likes to be snuck up on? Pirates are very polite in the way that they notify you when they are about to attack you. Charlotte O'hara, Raymond, ME
Ad blocker interference detected!
Wikia is a free-to-use site that makes money from advertising. We have a modified experience for viewers using ad blockers

Wikia is not accessible if you've made further modifications. Remove the custom ad blocker rule(s) and the page will load as expected.