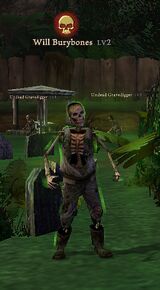 Will Burybones was an Undead Gravedigger Boss who haunted the Tortuga Graveyard as well as the Governor's Garden, King's Run, the cemetery on Port Royal, and Las Pulgas. He appears as a level 1-3. He was one of the least deadly bosses. He used a Dagger and was not a danger to even lower level pirates.
Will was not a static boss, his apperance was random where Undead Gravediggers were likely to appear. Also, he had been spotted during Invasions.
Note: His name breaks down to Will Bury Bones. Which is his former career as a gravedigger - he buried bones.
Ad blocker interference detected!
Wikia is a free-to-use site that makes money from advertising. We have a modified experience for viewers using ad blockers

Wikia is not accessible if you've made further modifications. Remove the custom ad blocker rule(s) and the page will load as expected.