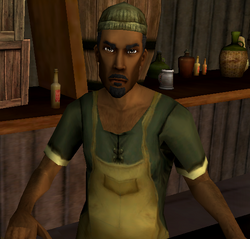 Will Wildshot is the proud bartender of the La Bodeguita Tavern on Cuba. His Tavern is the only one on Cuba, so many of the locals can be found there.
Game Notes:
Will Wildshot does not give out, nor participates in, any quest.
Ad blocker interference detected!
Wikia is a free-to-use site that makes money from advertising. We have a modified experience for viewers using ad blockers

Wikia is not accessible if you've made further modifications. Remove the custom ad blocker rule(s) and the page will load as expected.