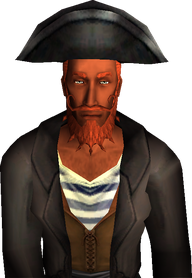 William Turk is a townsperson on Port Royal, who can be found at the Rowdy Rooster tavern. William Turk is also one of the people you have to straighten things out for Gordon Greer so Greer can join the Black Pearl crew.
Game Note:
He is the main NPC in the first part of the Pirate Life quest. Once completed the pirate earns the Recruit Bandana.
Ad blocker interference detected!
Wikia is a free-to-use site that makes money from advertising. We have a modified experience for viewers using ad blockers

Wikia is not accessible if you've made further modifications. Remove the custom ad blocker rule(s) and the page will load as expected.