Pirates Online is now closed.
This page will serve as an archive for the content that was in the game.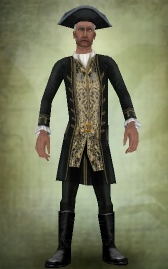 Winston Piper
is a high-ranking member of the
Black Guard
, part of the
East India Trading Company
and mercenary for hire to Lord
Cutler Beckett
. He is also a
GM
-played character that has appeared at several role-playing events such as
The Black Guard Cometh
. He can knock out pirates with the
Knock Out
ability to dispose of pesky pirates.
Winston Piper has an old Body type. Players can no longer create a pirate with this body.
Winston captains a Light Sloop Dark-wind Fish. All of his skills are Level 25, except from his notoriety, which stands at 37.