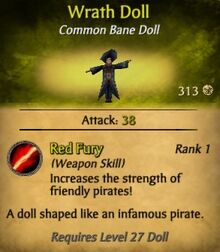 A Wrath Doll is a Common Bane Doll. This powerful Voodoo Doll gives the holder's attuned allies the Red Fury Weapon Skills to boost their attacks. Before the release of new Voodoo Dolls, this was the most powerful doll in the game.

Type of doll: Bane Doll, Mojo Doll, Spirit Doll
Ad blocker interference detected!
Wikia is a free-to-use site that makes money from advertising. We have a modified experience for viewers using ad blockers

Wikia is not accessible if you've made further modifications. Remove the custom ad blocker rule(s) and the page will load as expected.