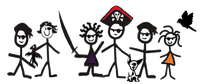 This page is a guide: Guides are essays that cover a specific topic in detail, in order to aid players to better grasp the topic. Guides may help you gain a better understanding of the game, but they are often written by a single editor, and the wiki offers no guarantee of their validity. Guides can be useful, but keep in mind that they may have a subjective point of view, or describe a specific approach to a subject which may not be the only solution.
To view all the guides on the wiki, please visit Category:Guides.
Welcome to X Jumper's Guide to Downloading Pirates Online for Mac!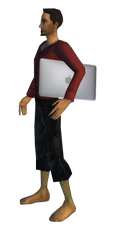 I may not have a Mac myself IRL, but I learned how from watching JohnnyDaPirate's video. I will give out each step from his video to simply download the game. You may have already watched the video but for those who have not seen it, I will link it. Also, I am not trying to copy JohnnyDaPirate. I am actually stating the steps in different sentences.
Step 1
Whatever browser your Mac has, open it up. Safari, Google Chrome, or Firefox. 
Step 2
When you opened up your browser, go to the top bar, and click. Then type in piratesonline.com or Disney Pirates of the Caribbean Online. Do however works for you to get on the website. 
Note: Some may link to the bad website which will be shown in the video. Click the Pirates Online Banner from the top and it will enter the main site that's easier for you to look at the Current News and everything.
Step 3
Once you have enter the website, go to the Help tab an click on Download for Mac and it will begin downloading. When it's finish, click on the downloaded file; PotC-setup.pmg.
Step 4
The opened window will pop up giving the Pirates Online Terms of Use. Please read through it if you need to. When you're done, click the Agree button.
Step 5
Another window will appear containing the PiratesOnline App. Drag the app to the Applications Folder. After that, click on PiratesOnline to open it up.
Step 6
You have downloaded the launcher! Log in with your Account ID and Password to play.
Note: When you download Pirates Online for the first time, it may download the game again and give you the trailer to watch before playing.
Final Step
If all the downloads are finish, you should be able to play! 
Video
Ad blocker interference detected!
Wikia is a free-to-use site that makes money from advertising. We have a modified experience for viewers using ad blockers

Wikia is not accessible if you've made further modifications. Remove the custom ad blocker rule(s) and the page will load as expected.