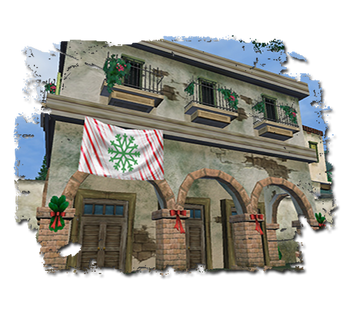 Yuletide Manor is a merchant store run by Holly Frost and the Frost family on Tortuga during the Holiday season. It is only open during the months of January and December.
The manor is located in the middle of town, across the street from Callecutter's Tailor Shoppe. A large snowflake emblem on a red, green and white striped banner can easily be seen from outside.
During the rest of the year, the doors will be locked and the banner will not appear.
The Frost Family
The inside of the shop is warm and inviting with a roaring fire and welcoming settee.
Nikolaus Frost
dances to holiday tunes played by
Eleanor Frost
, a
musician
.
Leon Frost
, another member of the family busily cleans their store for visitors. He also reveals a special holiday gift for those who ask him.
Behind the counter, Holly (the Frost family matriarch) offers special holiday themed items. These items are offered in exchange for moonstones. Curiously, the family is not interested in gold.
Little is known about the Frost's, except their apparent love of the holiday season and desire to obtain moonstones instead of gold. After January 31st, the Frosts close up their ship and sail to their home island, which is unmentioned.
Moonstones

Moonstones come in Small, Large and Enchanted. The latter being the most valuable and most rare to find. They are kept in the pirate's inventory, the same as bones and ship materials.
This special currency can only be found during the holiday season but easily located, as they are dropped by Navy, EITC, Undead Skeleton and Davy Jones' Crew enemies. They are NOT found in ship loot or animal / plant enemies.
Holiday Items
Among the weapons the Frost's offer are a variety of Rare and Famed swords, guns, daggers, dolls, staves, even special grenades.
| Card | Name | Rarity | Type | Cost (in Moonstones) |
| --- | --- | --- | --- | --- |
| | Arctic Blast | Famed | Pistol | S: 350, L: 250, E: 10 |
| | Arctic Cutlass | Famed | Cutlass | S: 750, L: 250, E: 25 |
| | Arctic Throwing Knives | Famed | Dagger | S: 350, L: 250, E: 10 |
| | Candy Cane Staff | Rare | Staff | S: 600, L: 400 |
| | Elf Doll | Rare | Voodoo Doll | L: 450, E: 2 |
| | Evergreen Dagger | Famed | Dagger | S: 350, L: 250, E: 10 |
| | Gingerbread Doll | Rare | Voodoo Doll | S: 550, L: 350 |
| | Santa Doll | Famed | Voodoo Doll | E: 20 |
| | Silver Striker | Legendary | Cutlass | L: 350, E: 1200 |
| | Staff of Ice | Famed | Staff | E: 30 |