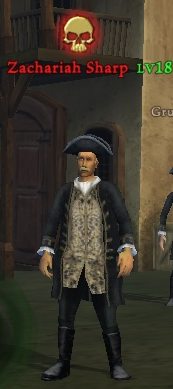 Zachariah Sharp is a skilled Grunt Boss who has been sighted at the main fort on Kingshead, at the helm of EITC flagships like the EITC Corvette on the High Seas, in Beckett's Quarry on Padres Del Fuego and sometimes in Fort Charles on Port Royal. He has appeared at Level 12-19, and is very dangerous to lower level players.
Ad blocker interference detected!
Wikia is a free-to-use site that makes money from advertising. We have a modified experience for viewers using ad blockers

Wikia is not accessible if you've made further modifications. Remove the custom ad blocker rule(s) and the page will load as expected.