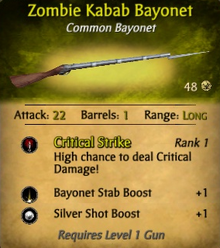 The Zombie Kabab Bayonet is a common bayonet that can only be obtained by redeem code. This weapon offers a Critical Strike ability plus Silver Shot and Bayonet Stab boosts, but can be used by even a beginning Unlimited Access pirate. The code for it was first announced on Pirates Online's Official Twitter before later being publicized on the Pirates Online Website. The weapon was created by gunsmith Erasmus Grimsditch to deal with the hordes of undead lurking in the Catacombs in Padres Del Fuego.
Attack Power: 22
Abilities: Critical Strike 1, Bayonet Stab +1, and Silver Shot +1
Range: Long
Level Required: Gun 1
Resale Value: 48 Gold
Cost: Can only be aquired through a special code, zombie.
Note: Once you trash or sell this weapon, you cannot get it back!